A Comfortable Dental X-Ray? Atlanta Cosmetic Dentist Adds New Digital Imaging Technology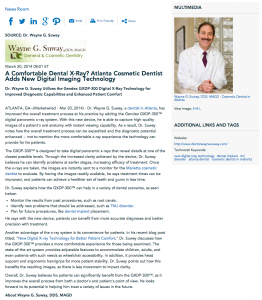 Dr. Wayne G. Suway utilizes the Gendex GXDP-300™ digital x-ray technology for improved diagnostic capabilities and enhanced patient comfort.
Atlanta, GA – Dr. Wayne G. Suway, a dentist in Atlanta, has improved the overall treatment process at his practice by adding the Gendex GXDP-300™ digital panoramic x-ray system. With this new device, he is able to capture high-quality images of a patient's oral anatomy with instant viewing capability. As a result, Dr. Suway notes how the overall treatment process can be expedited and the diagnostic potential enhanced – not to mention the more comfortable x-ray experience the technology can provide for his patients.
The GXDP-300™ is designed to take digital panoramic x-rays that reveal details at one of the closest possible levels. Through the increased clarity achieved by the device, Dr. Suway believes he can identify problems at earlier stages, increasing efficacy of treatment. Once the x-rays are taken, the images are instantly sent to a monitor for the Marietta cosmetic dentist to evaluate. By having the images readily available, he says treatment times can be improved, and patients can achieve a healthier set of teeth and gums in less time.
Dr. Suway explains how the GXDP-300™ can help in a variety of dental scenarios, as seen below:
Monitor the results from past procedures, such as root canals.
Identify new problems that should be addressed, such as TMJ disorder.
Plan for future procedures, like dental implant placement.
He says with the new device, patients can benefit from more accurate diagnoses and better precision with treatment.
Another advantage of the x-ray system is its convenience for patients. In his recent blog post titled: "New Digital X-ray Technology for Better Patient Comfort," Dr. Suway discusses how the GXDP-300™ provides a more comfortable experience for those being examined. The state-of-the-art system provides adjustable features to accommodate children, adults, and even patients with such needs as wheelchair accessibility. In addition, it provides head support and ergonomic handgrips for more patient stability. Dr. Suway points out how this benefits the resulting images, as there is less movement to impact clarity.
Overall, Dr. Suway believes his patients can significantly benefit from the GXDP-300™, as it improves the overall process from both a doctor's and patient's point of view. He looks forward to its potential in helping him treat a variety of issues in the future.
About Wayne G. Suway, DDS, MAGD
Dr. Wayne Suway has served the Marietta and Atlanta area for over 30 years. He earned his Doctor of Dental Surgery from Emory University School of Dentistry and has participated in numerous dental training programs since. He is a Master of the Academy of General Dentistry, an achievement earned by less than 2,500 dentists in the U.S. Dr. Suway is also an Associate Fellow of the American Academy of Implant Dentistry and a Diplomate of the International Congress of Oral Implantology. He is available for interview upon request.
Posted on behalf of Dr. Wayne G. Suway
1820 The Exchange SE, #600
Atlanta, GA 30339
Phone: (770) 953-1752
FAX: (770) 953-6470
Mon - Thu: 8:30 AM – 5:30 PM
Closed for lunch: 12:30 PM - 1:30 PM