4 Reasons to Consider Dental Implants This Year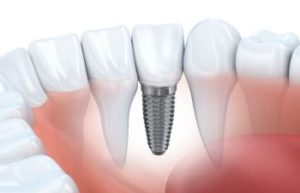 It's the start of a brand new year. Is it time to do something about your missing teeth? Even just one missing tooth can cause disruptions within your oral health and threaten your smile confidence. If you've been hesitant to invest in dental implants in the past due to cost, it is time you consider the astounding benefits this restorative treatment can bring you in return for your investment.
Dental implants are surgically placed into your jawbone. This creates a firm foundation for your artificial tooth or teeth that are secured on top. Dental implants are used to replace a single missing tooth or a full arch of missing teeth. They can be tailored to the unique needs of each patient to provide a permanent and very natural solution to your gapped smile.
Here are four reasons you should consider implant dentistry this year:
You're getting the closest option to the real thing. Dental implants look, feel and function like natural teeth. Unlike other restorative dentistry options, dental implants allow you to eat the foods you love (including hard and crunchy choices) and they can be cleaned and cared for just like real teeth.
You're preserving your facial structure. Your jawbone has the important job of anchoring your teeth as well as providing structure to the lower portion of your face. Unfortunately, when a tooth goes missing and the jawbone is no longer stimulated, it can lose density and form. This causes patients to suffer from a sunken appearance in their face, also known as premature facial aging. With dental implants, the health and density of your jaw is protected, which means you can hang on to your more youthful facial structure.
You're investing in your quality of life. Whether you have gaps of missing teeth in your smile or you've chosen an ill-fitting denture, your self-confidence and quality of life can greatly suffer. With dental implants, you can enjoy social settings and remain confident when eating, speaking and laughing around others. Since they are anchored strongly in your jawbone, there's no need to worry that your dental implants will come loose or fall out.
You're gaining a long-term solution.  Dental implants are designed to last a lifetime! Once the implant successfully fuses to the jawbone during implant healing, the implant won't need replacement. In fact, dental implants carry a remarkable success rate of over 98%!
Need more reasons to choose dental implants? Call Dr. Wayne Suway in Marietta. We are experts in implant dentistry, and we'd love to help you boost your health and quality of life with dental implants this year.
Posted on behalf of Dr. Wayne G. Suway
1820 The Exchange SE, #600
Atlanta, GA 30339
Phone: (770) 953-1752
FAX: (770) 953-6470
Mon - Thu: 8:30 AM – 5:30 PM
Closed for lunch: 12:30 PM - 1:30 PM