4 Great Flossing Tools for the Aging Adult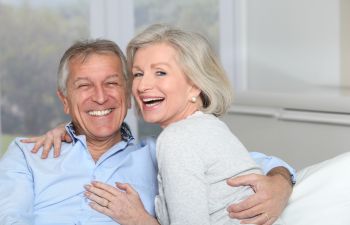 There are many physical tasks that become a challenge for senior adults. While you may have to start swimming instead of running or hire a house cleaner for your chores around the house, you can't afford to modify or give up your dental hygiene routine. While brushing can certainly be difficult for some, it is flossing that gives aging adults the most frustration. Trying to thread traditional floss in and out of tiny spaces in your mouth can be a timely task if you have lost coordination, dexterity, eyesight or steadiness.
Since flossing is paramount for a healthy mouth at every stage of life, you can't simply avoid the task each day. Instead, consider a flossing alternative using special tools instead of traditional flossing thread. Here are the top 4 flossers for senior adults:
Interdental Brushes
An interdental brush (or proxy brush) is a small pointed brush with a handle. It may look like a miniature toothbrush, but it is used to in between your teeth just like floss.
Floss Picks
If wrapping floss around your unsteady fingers is just too hard, consider a floss pick. This is a device that holds floss on a handle. Floss picks are great if you have a caregiver that flosses for you or if you have a sensitive gag reflex.
Water Flossers
Many older adults turn to water flossers for an easy, painless and thorough flossing job. Using only powerful streams of water and an easy-to-handle device, a water flosser flushes out food debris from between the teeth.
Floss Threaders
Floss threaders are great for patients who have fixed bridges or other prosthetics that they must clean under. It involves threading the floss through a simple plastic or nylon loop for easy and quick use.
Whether you have just a few teeth, a full mouth of teeth or prosthetic teeth, everyone has to floss to retain optimal oral health. Not flossing can lead to bad breath, decay, gum disease and other serious problems that can eventually affect your body health. Don't be shy when it comes to asking your dentist about alternatives to traditional flossing. Dr. Wayne Suway, a specialist in Senior Dentistry, is here to help!
Posted on behalf of Dr. Wayne G. Suway
1820 The Exchange SE, #600
Atlanta, GA 30339
Phone: (770) 953-1752
FAX: (770) 953-6470
Mon - Thu: 8:30 AM – 5:30 PM
Closed for lunch: 12:30 PM - 1:30 PM